Custom Club Fitting
Why are custom fit clubs important to your game?
Ask yourself: Why are there so many sizes of men's' suits, Why are there so many sizes of men's shoes, or ladies shoes, for that matter?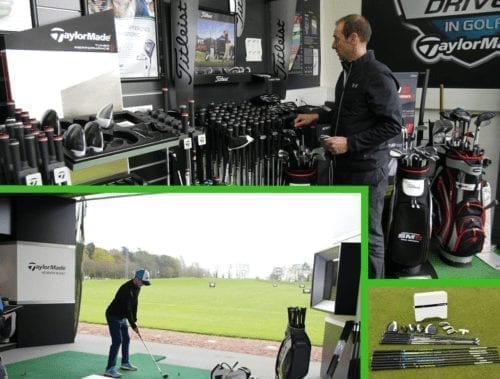 Simple, people come in different sizes. So do golf clubs! Sure, you may be able to guess what shaft flex you need, based on the club head speed you can generate, but what about the way you "load" the shaft? What about the lie angle of your club? Grip size? How will you ever figure out shaft options like: steel versus graphite, low, mid, and high kick points, torque ratings, gram weight, length. All these factors determine how well a club will perform.
If it is mind boggling, don't worry, our Perfect Fit Team is here to help! At Northway Golf Center, we specialize in giving you "The Perfect Fit" in order to ensure that you play your best golf. With the addition of temperature controlled hitting bays, the Digital V One Video Analysis and the Vector Launch Monitor, fitting your swing to a particular set of clubs becomes pure science!
Sign up now for a custom fitting using either of these two new technologies. Our Perfect Fit Team will work with you to determine your specifications for shaft type and flex, club length and grip size, loft and lie angle in the model you select. Many times, we will have the required specifications in stock and you will be able to take your custom fit set home the same day. Should we need to order your set from any of our manufacturers, delivery will usually take only two to three weeks.
Contact us for questions regarding custom fitting options on any model golf clubs.