Custom Club Fitting
Why are custom fit clubs important to your game?
Ask yourself: Why are there so many sizes of men's' suits, Why are there so many sizes of men's shoes, or ladies shoes, for that matter?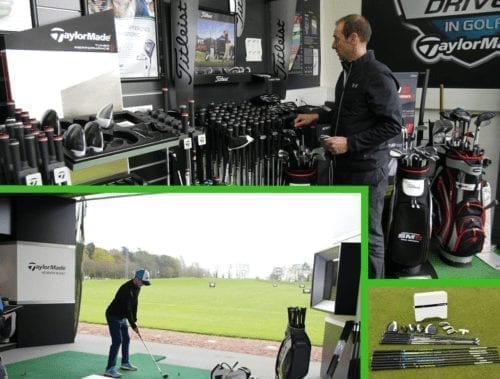 Simple, people come in different sizes. So do golf clubs! Sure, you may be able to guess what shaft flex you need, based on the club head speed you can generate, but what about the way you "load" the shaft? What about the lie angle of your club? Grip size? How will you ever figure out shaft options like: steel versus graphite, low, mid, and high kick points, torque ratings, gram weight, length. All these factors determine how well a club will perform.
If it is mind boggling, don't worry, our Perfect Fit Team is here to help! At Northway Golf Center, we specialize in giving you "The Perfect Fit" in order to ensure that you play your best golf. With the addition of temperature controlled hitting bays, the Digital V One Video Analysis and the Vector Launch Monitor, fitting your swing to a particular set of clubs becomes pure science!
Sign up now for a custom fitting using either of these two new technologies. Our Perfect Fit Team will work with you to determine your specifications for shaft type and flex, club length and grip size, loft and lie angle in the model you select. Many times, we will have the required specifications in stock and you will be able to take your custom fit set home the same day. Should we need to order your set from any of our manufacturers, delivery will usually take only two to three weeks.
Contact us for questions regarding custom fitting options on any model golf clubs.
Spec Check: $50 – 30 mins
Our traditional "spec check" is primarily geared to the beginner or intermediate level player. Ideal for those who have existing equipment and are looking to confirm the basic information such as proper shaft type and flex, length, lie angle and grip size. Keeping in mind that customization can be costly, our
technicians will evaluate your equipment and provide a written estimate for any alterations needed.
Elite Fitting Services w/TRACKMAN Technology
Are you looking for the most accurate and comprehensive assessment available? Only our most experienced fitters will conduct these appointments to insure your game is met with the level of knowledge and service you desire. Exclusive use of our 4 th Gen TRACKMAN launch monitor, combining dual radar sensors with a high speed camera to capture every detail available within this expert level fitting session. Additional time is allotted for each appointment to provide ample opportunity to address all of the details needed to leave you feeling confident in your equipment and ready for the next round!
Iron Fitting: $125 – 1.5 hours
Wood Fitting: $125 – 1.5 hours
Putter Fitting: $50 – 1 hour
Full Bag Fitting: $250 – 2.5 hours
(Standard fees are refundable toward equipment purchase made within 30 days. Partial fee retained by Trackman certified fitting professional.)
Standard Fitting Services w/Technology
Experienced players know the path to lower scores, added consistency and increased distance is found in the numbers. Technology based fitting is available to assess current performance data to provide you with the best components for your game. Utilizing doppler radar or camera-based launch monitors and computerized shaft selection software, our fitting professionals are trained to guide you through this step-by-step process to isolate the equipment that will provide enhanced performance on the course.
Whether you choose to customize your existing equipment or build a new set to your ideal specs, technology based fitting is the key to a better game.
Iron Fitting: $75 – 1 hour
Wood Fitting: $75 – 1 hour
Putter Fitting: $25 – 30 mins
Full Bag Fitting: $150 – 2 hours
(Standard fees are refundable toward equipment purchase made within 30 days.)